Part 1. Godhra - Anand 1/1/80
I have been very lucky to have made a number of trips to India, usually travelling in the winter period. December 1979-January 1980 was my first trip and New Years Day at Godhra was very special as amongst other things I had my first cab ride on an Indian steam engine.
Godhra is located on the WR mainline between Vadodara and Ratlam, it had two branches, one of which was a narrow gauge line, the other a broad gauge line to Anand.
Godhra had a small shed, which included a small allocation of the modern WL class pacifics, and two old W class narrow gauge engines. Through workings on the line between Vadodara - Ratlam were shared by Ratlam and Godhra locos, although the coal shortage had curtailed some of these workings.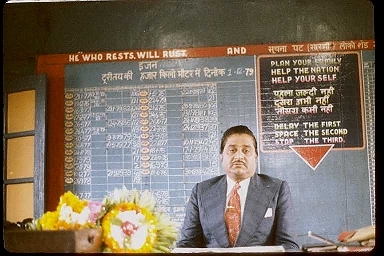 CLICK TO ENLARGE
The shed foreman Mr George D'Souza received New Year greetings from his staff as he was coping with the coal shortage that threatened the cancellation of further services. Notice the board behind him, showing engine availability and slogans for family planning.
CLICK ON THUMBNAILS TO ENLARGE. THEN HIT 'BACK' ON YOUR BROWSER TO RETURN TO THIS PAGE.

ALTERNATIVELY, RIGHT CLICK ON THUMBNAIL AND SELECT 'OPEN IN NEW WINDOW' TO CONTINUE READING THIS PAGE UNINTERRUPTED.

| | |
| --- | --- |
| | WG 8497 being prepared for a freight working, using rags covered in oil the engine receives a quick clean. The WL class with their red boilers had to be cleaned in the traditional way. |

| | |
| --- | --- |
| WL 15032, a light pacific is gently warmed up and checked, I was invited to ride the engine when it worked the afternoon slow passenger train to Anand. | |

The narrow gauge engines W570 & 580 were stored due to services on the narrow gauge line being suspended due to the coal shortage.

WG 8497 gets its freight under way, notice the old tender which was an auxillary water suply for the engine. The going away shot shows the forest of semaphore signals in the yard area.

Earlier I had seen WL 15040 depart on the morning train to Anand. As the engine gently drew away people were still loading the parcels coach, the last photo shows the final passenger before he boards the moving train and leaves a deserted platform.

Cab ride on WL 15032 working the afternoon train to Anand.
| | |
| --- | --- |
| The fireman at work. A man ahead of his times by at least a decade in wearing a baseball cap backwards! It was to become a young man's fashion statement in the 90's. After this trip I realized I would need a wide angle lens if I was to take reasonable footplate photos. | |

The cross with the opposite passenger train at Sevliga Jn. In charge is WG 8785, the close up shows the staff about to be exchanged.

Nearing the Anand end of the line we had another cross with a WG hauled freight and are shown going into the loop.

It was a wonderful New Year's Day for me and more photos will be added to this page showing photos from other trips.

For more pictures of Indian steam, please consider my other webpages:
India Rail Trip Notes 1983:
Indian Steam Hot Spots: GOA:

© All material on this website is copyright Terry Case. Please feel free to download any of the pictures for your own PERSONAL use or for any non commercial applications. This includes using them on your own personal websites, or taking printouts and giving them out to your friends. In the event of your using any material from this website, please credit Terry Case as the photographer and source of information. The material and photographs contained herein MAY NOT BE USED for any commercial purposes whatsoever.

Page spun by S.Shankar with Microsoft FrontPage 98.